Driving traffic to your website is essential to building your brand and growing your customer base. However, with millions of websites on the internet, it can be a challenge to get noticed, especially for a small business with limited resources.
The good news is, there are many ways that internet users discover new websites, and by utilizing these methods, you can reach a wider audience and increase your visibility online.
From search engines to local marketing, we will dive into 25 different ways internet users discover new websites. These methods are hand picked for small business owners and entrepreneurs on a budget looking to discover new ways to boost their online presence.
1. Search engines
The most popular way to discover websites by far is simply by entering keywords into a search engine (Google, Bing, Yahoo, etc.) and returning a list of relevant websites. Users can find a new website by clicking on one of the search results.
Your top priority as a new business owner should be optimizing your website to rank higher than your competitors. This is achieved by targeting long tail keywords and having a strong internal linking structure on your website.
2. Social media
Users may discover a new website by following links shared by friends, family members, or colleagues on social media platforms (Facebook, Twitter, LinkedIn, etc.). Once you have formulated your content, start posting article snippets and photos on your social media pages.
Be sure to use at least 3 hashtags and post multiple times per week. Engage with other accounts in your industry and don't be discouraged to post the same information more than once, internet users have very short attention spans.
3. Referral traffic from other websites
A user may discover a new website by clicking on a link from another website. This type of traffic can come from other websites that have partnered with the new website or have similar interests. Reach out to influencers in your niche and offer their audience a special offer when they visit your website.
4. Direct type-in of a URL
A user may discover a new website by directly typing a URL into their browser's address bar. Owning a keyword rich domain (known as a type-in domain) helps bypass the search engines entirely.
If you own an online toy shop, for example, pointing a domain like bestkidstoys.com to your website could bring new visitors who type that specific phrase into their address bar.
5. Online advertisements (PPC, display ads, etc.)
Internet users may discover a new website by clicking on an advertisement they see while browsing websites or searching the web. This can include pay-per-click (PPC) ads, display ads, and other types of online advertisements.

Type-in domains are great for search engine PPC ads because they include the keywords users are searching for, increasing the likelihood they will click the ad. Using the previous example, a user searching for kids toys will see the domain bestkidstoys.com in the search result and be tempted to click.
6. Email marketing campaigns
People may discover new a new website through an email marketing campaigns. This is another form of referral traffic where a marketing email may contain a link or information about a partner or sponsor.
7. Blog posts and content marketing
A user may discover a new website through blog posts or other forms of content marketing. The blog post or content may contain a link to the website or information about the website. You can seek out broken links in your niche and offer the blog owner an updated resource.
8. Online forums and discussion boards
Users seeking information about a topic may discover a new website through an online forum or discussion board. Many forums and discussion boards allow you to put a link to your website alongside your signature or profile. Being an active member on these websites can help demonstrate your knowledge, raise brand awareness, and build links back to your home page.
9. Influencer marketing and endorsements
Media consumers may discover a new website through influencer marketing and endorsements. Instagram influencers in your niche often promote their sponsors on their other social media pages, in blog posts, or through other forms of content.
10. Mobile apps and game downloads
Smartphone users may discover a new website through a mobile app or game they have downloaded. App developers in your niche may offer sponsorship or affiliate opportunities. As you become more established, you can create a simple app for your site to gain additional exposure via app stores.
11. Affiliate marketing programs
A user may discover a new website through an affiliate marketing program. The affiliate program may pay commissions to users who promote the website and drive traffic to it. Create a way to track visitors and offer an incentive to users who share your link.
12. Video content
YouTube is the second-largest search engine in the world, with over 2 billion monthly active users. The average person spends 40 minutes watching online video every day. Make videos that demonstrate your expertise and include a link to or information about your website. Post on several different platforms (such as Vimeo and TikTok) to gain maximum exposure.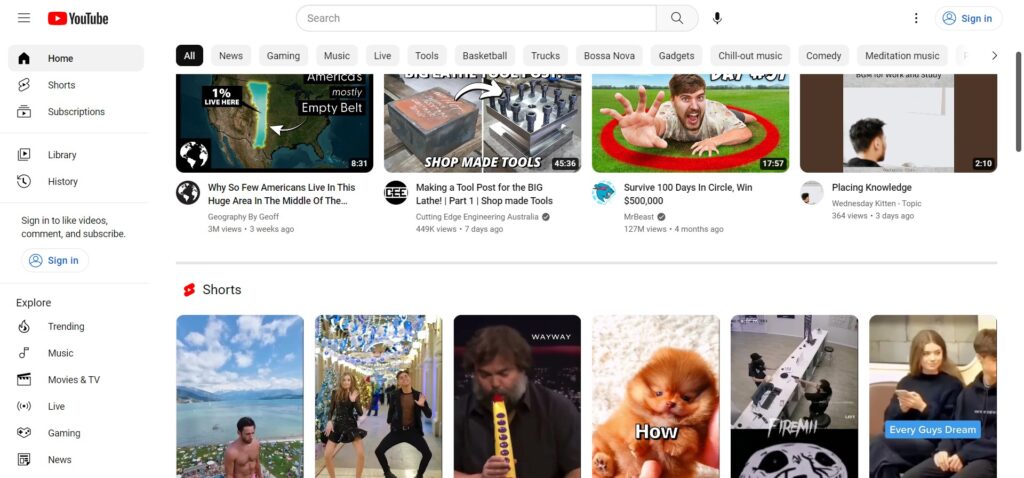 13. Podcasts and webinars
Over 80 million people in the US listen to podcasts monthly and the average podcast listener subscribes to 7 different shows. Reaching out to a podcast related to your industry can be a great way to gain website exposure.
14. PR and media coverage
A well-executed PR campaign can result in increased brand awareness, higher search engine rankings, and more leads and sales for a website. This can be used to promote a website by leveraging media outlets and journalists to spread awareness of your offerings, services, or unique features. Some methods include: creation and distribution of press releases, pitching story ideas to journalists, securing interviews, and building relationships with key media contacts.
15. User-generated content and reviews
A user may discover a new website through user-generated content and reviews. This can be accomplished by encouraging customers to share their experiences on social media, creating a user review section on the website, or offering incentives for customers to leave reviews.
16. Listings in online directories and yellow pages
New users can discover your website by creating a comprehensive business profile, including accurate information such as business name, address, phone number, and website URL, and submitting it to relevant directories, such as Google My Business, Bing Places, and Yellow Pages. This can also help improve your search ranking.
17. Local search results
Local search results can be used to promote your website by improving its visibility in search engines for relevant local queries, such as "best [product/service] in [city]."
18. User-generated referrals (word of mouth)
People may discover a new website through word of mouth recommendations from friends, family members, or colleagues. Word of mouth advertising is considered one of the most effective forms because its based on trust. You can leverage this by offering incentives for customers to refer their friends and family, such as discounts or loyalty rewards, as well as encouraging satisfied customers to share their experiences with others.
19. Q&A sites
User may discover your website through a question and answer site like Quora or Yahoo Answers. Similar to that of a message board or online forum, these sites allow you to put a link to your website or information about your website in response to a question. Answering questions on third-party sites also help raise brand awareness and demonstrate your expertise.
20. Comparison shopping websites
A comparison shopping website may lead a new user to discover your website. These website allow users to compare prices and features of products or services from different suppliers. By having your website's products listed on popular comparison shopping websites, it increases the website's visibility and reach, potentially attracting new customers and generating more sales.
21. Industry-specific websites and trade magazines
When it comes to targeting users directly in your niche, industry-specific websites and trade magazines are one of the most efficient methods. Promote your site by advertising on relevant websites and in trade magazines, submitting articles and press releases to these publications, and establishing partnerships with industry leaders to increase visibility and credibility within the industry.
22. Virtual events, webinars and online conferences
Virtual events, webinars, and online conferences are a great way to dicover a website as they offer opportunities to engage with and educate potential customers, establish thought leadership, and build brand awareness.
Promote your website by providing valuable content and thought leadership to potential customers. This can be achieved by hosting or participating in virtual events related to the website's industry, offering webinars on relevant topics, and speaking at online conferences to build the website's brand and increase visibility to its target audience.